Over 35 years ago, a local pastor named Dr. James Latimer wanted to develop a community for the aging members of his congregation that was based on the same loving faith as the church. After introducing Charles S. Trammell, Jr. to the project, Retirement Companies of America (RCA) was born. Charlie was a local builder who also had impressive experience in the real estate, food service, and financial sectors.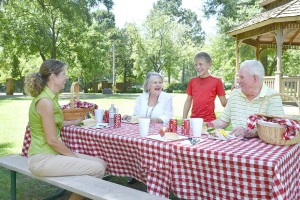 From the beginning, God's hand was present in the building of Kirby Pines. The community continues to be locally-run by RCA, with staff and leadership driven to live the RCA mission every day: to faithfully serve each resident by offering them security for life, respect for individuality, a vibrant lifestyle in an enriching environment, and excellence in all endeavors.
The same commitment and care will be present in The Farms at Bailey Station, a new community that builds on RCA's foundation of strength and commitment to care.
The RCA mission is evident in the way campuses are developed, the pride shown in creating care-free environments that are both lively and relaxing, and how residents are at the center of the work RCA does.